Eduardo Verastegui captures the rakishness
of young Gonzalo.
Seven Noble Knights
is coming out in only two days! Amid all the hubbub, I've somehow managed to pin down young Gonzalo González, known to his family as Gonzalico. He's recently had a busy time, too, preparing for the wedding of his uncle Ruy Blásquez to Doña Lambra, but now, in late summer 974, he's relaxing in Barbadillo with his brothers, mother, uncle, and new aunt. We sit by the fire while maids, pages, and brothers go in and out. Although he's young and a bit quick on the draw, I can tell he's a good guy.
JKK:
How did you end up in Barbadillo with your aunt, Doña Lambra? You killed her cousin Álvar Sánchez and, admit it, overreacted when her page threw a blood-soaked cucumber at you.
GG:
Don't get me started on that bloody cucumber. But Count García ruled Álvar's death an accident, and my uncle says Lambra forgave us for everything.
JKK:
She was pretty upset.
GG:
Yes, Lambra can really throw a fit! But I mean, we're here with her now, so everything must be all right. We're family!
Doña Lambra in one of her rages.
JKK:
You've got quite a family. Tell me about your uncle.
GG:
I've known Ruy Blásquez forever, and my brothers have known him even longer than I have. He's a great uncle. He taught me a lot of what I know about warfare.
JKK:
You seemed a little impatient with him at
the siege of Zamora
.
GG:
Well, no, if it hadn't been for the incident with the child, I would've followed my uncle's measured, considered, experienced advice—orders.
JKK:
Does he seem that old to you? He's only 35.
GG:
You're even older than that. Would you have left that brave child to fend off the Moorish host all by himself?
JKK:
Yes, Gonzalico, everyone knows you're about as young as it gets. You were only knighted last year. But honestly, I can't imagine myself in a situation like siege of Zamora, so who knows what I would do? I might stick with my principles, like you, or I might err on the side of caution, like your uncle. How has your uncle been enjoying his time in Barbadillo?
GG:
I really haven't seen much of him since we got here. I'm not sure what we're doing here, anyway. I've been pacing the entry road on sentry duty just for something to do. My uncle Ruy Blásquez stays away all day and doesn't say much in the evening. I think he's planning something big for us to do.
JKK:
Any idea what it could be?
GG:
Well, my uncle recently sent our father all the way to Córdoba to collect a debt from Almanzor. Ruy Blásquez might have amazing plans to make an incursion to the south. Maybe it's all leading to retaking Toledo, the ancient Visigothic capital, for Castile!
JKK:
I truly hope for all the best for you and your six brothers. It's been a pleasure.
The crest of Salas de los Infantes shows
Gonzalico and his family.
Seven Noble Knights
, the only novel with Doña Lambra and Gonzalo González, is available for
preorder
now. The
Grand Book Launch Blog Tour
has already kicked off, and be sure to attend the
Facebook launch party on December 15
for fun and prizes.
Preorder links:
Kindle
•
Indiebound Softcover
•
Amazon Softcover
•
Barnes and Noble Softcover
•
Add it to your To Read list at Goodreads
Please enjoy a prequel story that shows Doña Lambra's origins—how she met Justa, how she lost her parents, and how she went from spoiled girl to resentful lady and, in
Seven Noble Knights
, reluctant bride. It's available for free download in three formats
here
, and it's called
"Shrouds and Stones."
Remember to throw your name into the Goodreads hat to win one of three first edition softcovers. Giveaway ends tomorrow—December 14. The softcover edition won't be released until January 16, so get it early!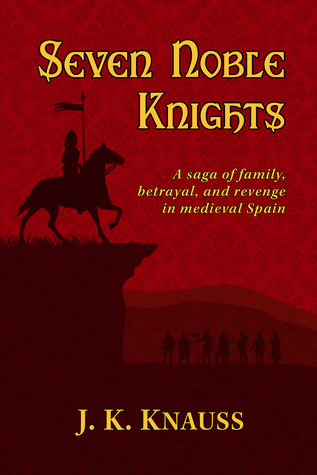 Enter Giveaway